Andrea José Castro is one of the winners of the Bright Young Gems 2021 UK competition. Graduate of Central Saint Martins in London, her work transforms the way we look at mineral resource extraction for jewelry production. She learned jewelry techniques from Peruvian artisans and extraction techniques from artisanal miners celebrating the value of a reciprocal approach within jewelry production. She is the first Peruvian to win this award.
To get started, please tell me about your participation in this contest.
I finished my design master's degree last year at Central Saint Martins. It was a two-year design research and I majored in jewelry. Basically, the Bright Young
Gems brings together new jewelry talent across the UK. I, when leaving a British university, was able to participate in this contest and, as never before in other years, the category "Responsible Thinking - Sustainable Eco-Heroes" was opened, which gives opportunity to the sector entering a much more radical sustainability trend. So, I applied for the award by submitting the work I did as final research for Central Saint Martins.
What was that work about?
In Central Saint Martins I researched, for a couple of years, the history of the culture and textiles of Peru. All this research led me to create the Jarapay collection, which means "to wrap", and which was born with the purpose of reflecting Peruvianity in a very modern, contemporary way, focused on the field of fine jewelry. In that sense, I started working on a project that sought to innovate in materials and, at the same time, in manufacturing; that is, the manufacture of the piece of jewelry. All the work was done in Peru, in collaboration with Karent, a jeweler originally from the same city where I am from: Arequipa. Along with her I was able to land all the design research.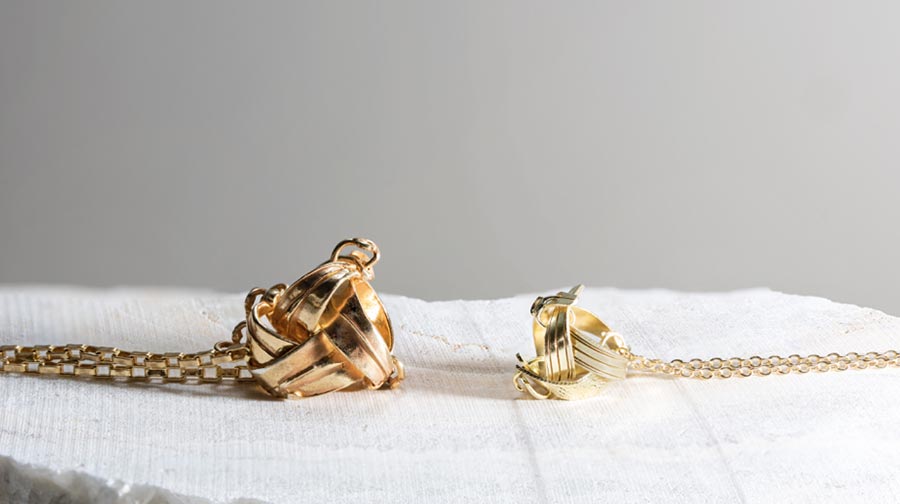 Photo: Andrea José Castro
How do you define eco-friendly jewelry? What materials do you work with?
The innovation in manufacturing came from a collaborative work that focuses on the development of chains inspired by the Peruvian textile. It is responsible fine jewelry, because part of this work has been the 'provenance', where the material comes from. That is, if I work with one of these materials, they must be Peruvian, or that the main element is, and they must have a responsible origin. On the subject of fine jewelry, which is part of the luxury industry, they are precious materials. I have focused on Peruvian mercury-free gold. And thanks to a collaboration with the NGO Pure Earth, we worked together on a project to bring Peruvian mercury-free gold market from the Peruvian Amazon to the international market. For that I had the opportunity to travel to the concession of an artisanal miner in the Amazon, who has been trained in mercury-free practices. In that place, the reforestation in the mining concession has been executed with Pure Earth by the hand of the miners themselves. It is very interesting, because it closes the cycle of artisanal mining that occurs in a fragile ecosystem and where in turn an agile regeneration of the earth can be captured.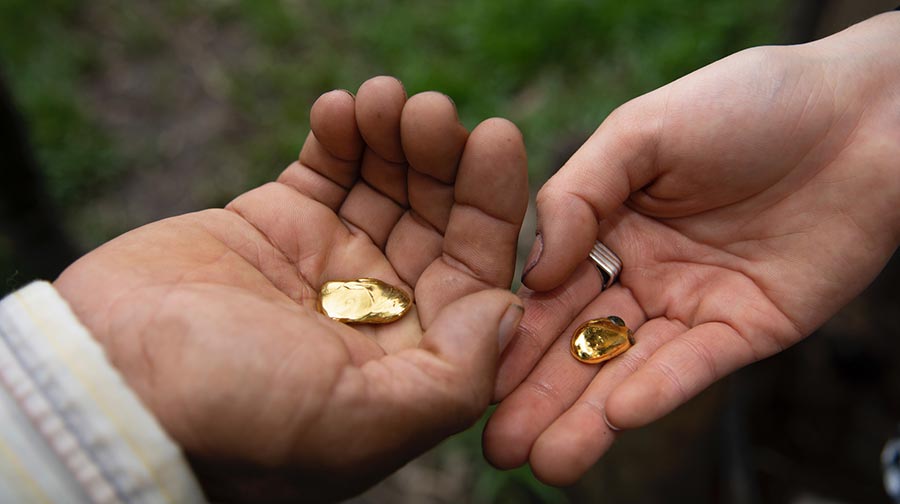 Photo: Andrea José Castro
Is It in Madre de Dios, right?
Yes, exactly. And, as I told you, there I was able to exchange knowledge with this miner. The miner taught me a lot about artisanal mining and we shared the process together, from extraction to recovery of nuggets or gold powder. In that work, talking with him, we found the opportunity to collaborate. Thus, I taught him how to turn gold into metal bars that met the standards of the international market and could enter as 'Peruvian mercury-free gold'. This material is innovative in Madre de Dios. It seeks to address the problem in a positive way: by talking, training and, at the same time, finding a market opportunity for artisanal miners in this area. So, they already feel motivated to work a clean mining, because the demand for responsible gold is increasing.
In this research, what are the reasons you found for the way artisanal miners act in recent decades? What interesting facts did you see?
I think your question is great. That's where I started researching and in fact it's the reason why I decided to travel and get to know the reality in the field. It's not just about the artisanal mining worker, but also about demand. For a few years there has been a very high demand worldwide for "clean" gold in recent years. And that leads to the failure of the gold value chain, because we need the material in a fast way. We are not interested in where the material comes from and we want cost-effectiveness; miners respond to this need. An opportunity that I see in this panorama is that we need to train and open a new horizon to education in this area. That is where my entrepreneurship comes to collaborate with the miner: "I make available methods and techniques to process
the gold and you reforest and eliminate the use of mercury, here there can be a collaboration that will last and generate a good impact throughout the area where you operate." This is how I propose the work in this initiative.
It is similar to the case of conflict diamonds...
Exactly. This collaboration started in 2019, and the fact that we have succeeded and now we can go out and tell the story from start to finish which is very rewarding. Because there is also a lot that is exported, especially for the jewelry industry worldwide.
How much gold are we talking about?
Ufff, I don't have the exact number, and there are only estimates, but the export of gold from artisanal and illegal mining is a significant amount, and a large percentage of that comes from Madre de Dios.
What do you think has been the impact of your project and how do you see it in the future? Do you see a future of small miners organized to better respond to the demands of a market that is also more responsible?
Yes, definitely. One of the issues that is being fundamental here in the UK is that of responsible jewelry. In the events where jewelers of international level participate, the topic that is most addressed is that of mercury-free gold. I believe that the work we have been able to do together with the miner and artisans of Peru makes it known that this is possible and that we are already working on a solution. There is a potential international market in the field of jewelry. This award has given me access to some of the biggest names in global jewelry, who now also know these realities and can make much more direct decisions.