Did you know that this important park in the capital of Peru has a Guinness record? We will tell you everything about the history of one of the most emblematic tourist attractions in our country.
In our capital, at the crossroads of Jr. Madre de Dios and Av. Arequipa, in the district of Cercado de, is the Magic Water Circuit, also known as the Water Park. It is located in the Reserve Park.
The Reserve park was inaugurated in 1929 in honor of the reservists who fought to defend our city in the War of the Pacific in 1881. Its architecture has beautiful European designs. In 1969 it was annexed to the study "Recreational Areas for Metropolitan Lima", carried out by the Office of Planning and Urban Development of the Ministry of Housing. In 1980 it was awarded the title of Monumental Urban Environment and Historical Heritage of the Nation, which was ratified in 1986.
In 2006 the Municipality of Lima built a complex of thirteen water sources in the park. A year later, on July 26, 2007, it was inaugurated as one of the most important municipal projects of the decade, due to its large scale. This park is considered an icon of the capital and, in addition, it is a symbol of the recovery of public spaces.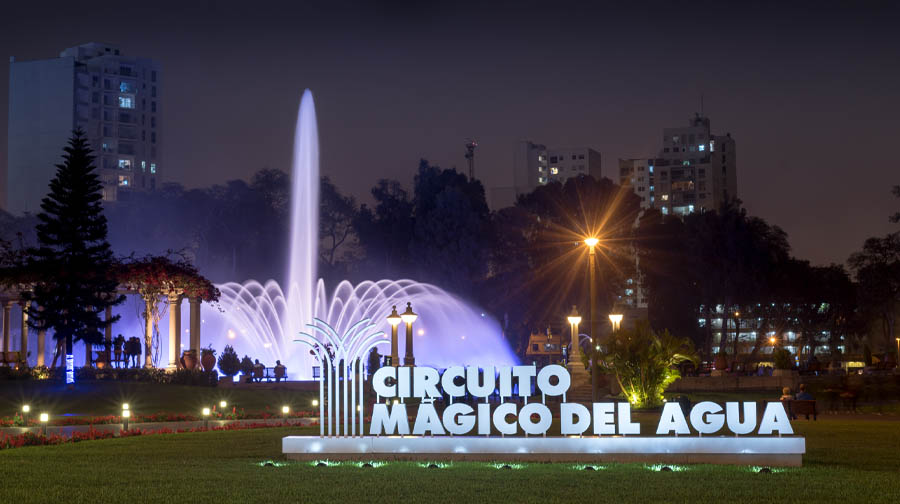 Source: Shutterstock
The attraction of the Magic Water Circuit is to live the experience of witnessing the synchronicity and the spectacle between the water, the music, the sound, the lights, the infrastructure and the green areas. It is impressive to see how all these elements converse in perfect harmony and create a journey that many countries envy. This tourist attraction is so surprising that in 2009 it obtained the Guinness Record for being the world's tallest fountain complex in a public park.
Before the pandemic, the Water Park could register up to 8,000 visitors on a weekday and exceeded 16,000 on weekends. Obviously, the pandemic has had to reduce capacity. However, progressively and under the biosafety protocols, it is recovering its original capacity and continues with an important daily assistance between Peruvians and tourists.
Currently, the attention of this wonderful park is from Monday to Sunday from 3 p.m. to 10 p.m. Various shows are organized, depending on the day. To check the schedules, click here. The general income is S / 4 (four Soles).
This is a different and unique option for those who live or are visiting the capital city!