They call her "the queen of rap in Quechua" and she was born in Huamanga, Ayacucho. At the age of 20, Renata Flores represents the generation that claims our Andean identity. Her first album Isqun, has just been released and contains songs inspired by five emblematic Peruvian women.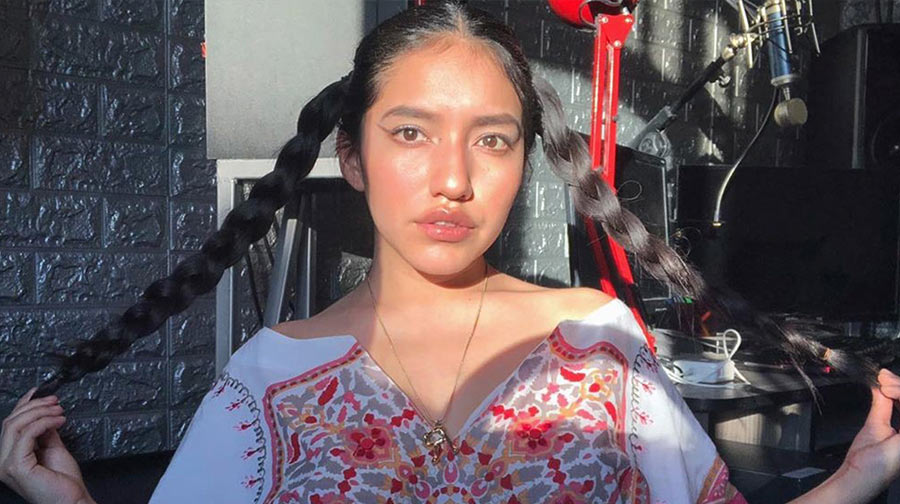 Chañan Cori Coca, Francisca Pizarro, Beatriz Clara Coya, Maria Parado de Bellido and Rita Puma Justo, each of them represent the Inca Empire, the Spanish Invasion, Colonialism, Independence and Republic. This is not a new history book, but a music album that will give us something to talk about for decades to come.
With Isqun, ''nine" in Quechua, a number that represents the soul in the Andean cosmovision, Ayacuchan singer Renata Flores takes a journey through five stages of Peruvian history through such women. Composed in styles that combine Trap, Rap and urban genres, these are powerful songs that combine Quechua with Spanish in a mixture that vouch for our mestizo roots and a constant recognition of Andean women.
It consists of nine original songs, worked on over three years, since 2018, when the artist began using her social networks to release them, one by one, in the form of singles.
ROSALIA AND RENATA
Renata Flores' style is reminiscent of the one that Rosalia, whom she mentions in her second track "Francisca Pizarro", made popular in Spain with El Mal Querer in 2018. "I really loved mentioning her because she also combines flamenco with urban music and it was a good thing to say that we are fusion," she said in an interview with the Spanish magazine Yorokubu.
The search for her roots, folklore taken to the contemporary, the use of sounds from her own land, even the way of naming the songs with a double title, are part of the common language used by both artists. Not only that, both artists claim the feminine identity as a transgressor element in a world and a genre dominated by the masculine vision.
MUSIC AND QUECHUA IN HER BLOOD
At the age of 14, she became famous thanks to a Quechua version of Michael Jackson's The Way you Make me Feel, which she released in a video clip shot in Vilcashuaman. Renata is the daughter, not only of rockers from Ayacucho, but also of the city where music is present in all aspects of life. Songs like Adiós Pueblo de Ayacucho or Flor de Retama, bands like Uchpa and musicians like Jaime Guardia, all are part of the culture from which this young artist nourishes.
Quechua is not her mother tongue. She learned it from her grandmothers, Julia and Ada, "We used to deny it. Even though it is part of our roots, we were ashamed of it. It was very normal to discriminate against people of indigenous origin because of the way they spoke," he says in an interview with La República.
Renata has little by little positioned herself in the international market. We hope that the future smiles with many more successes to this young singer, song writer and activist who makes us feel a deep sense of pride.